Flanagan's Menu
Menu prices and menu items are subject to change according to seasonality.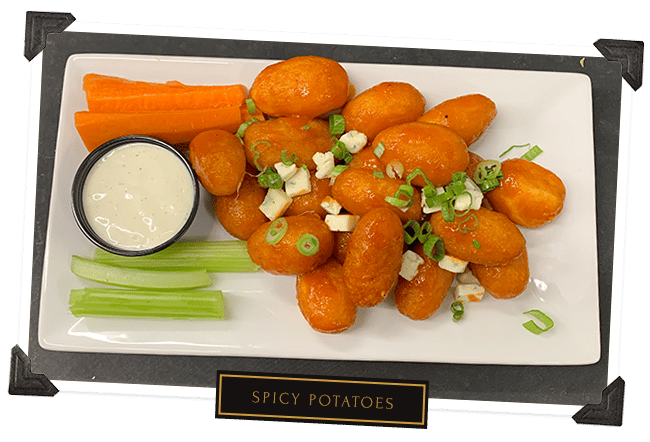 SPICY POTATOES
$12
Potatoes tossed in our own spicy wing sauce, crumbled blue cheese, housemade ranch dipping sauce.
POTATO JACKETS
$13
Classic skins, cheddar cheese, sour cream, bacon, chives. – add chicken $3.

GLUTEN-FREE OPTIONS AVAILABLE
REUBEN ROLLS
$15
Three golden brown pastries filled with tender corned beef, Swiss cheese, tangy sauerkraut, housemade thousand island dipping sauce.
HOT WINGS DUBLINER  (8)/$12 (12)/$16
Chicken wings tossed in your choice of Flanagan's, bbq, hot or 911 sauce. With carrots, celery, housemade blue cheese.
CORNED BEEF SLIDERS  $17
Thinly sliced corned beef, swiss cheese, pickle, horseradish mayo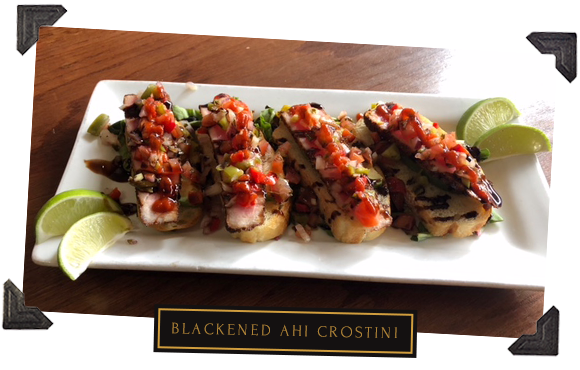 BLACKENED AHi CROSTINI*
$19
Four seared and blackened ahi tuna sliders with cilantro pepita, pico de gallo, avocado, and sriracha. Served on sliced ciabatta.
LUKA'S MAC N' CHEESE
$14
Housemade creamy cheddar and parmesan macaroni, baked with bread crumbs.
– add bacon, chicken, or veggies $3
Flanagan's Chinese Chicken Salad
$19
Angel hair pasta tossed with grilled chicken, red and green peppers, red onions, shredded carrots, and tossed with flavorful toasted sesame dressing.
FLANAGAN'S COBB SALAD
$19
Our version of the Brown Derby Cobb. Grilled chicken breast, sliced ham, turkey breast, thick smoked bacon, avocado, blue cheese crumbles, hardboiled egg, grape tomatoes, crisp iceberg and romaine lettuces. Choice of dressing.
CHILI
(cup)$10 (bowl)$12
Housemade chili loaded with beans, ground beef and spicy Italian sausage. Topped with onions and sour cream. Served with a side of tortilla chips.
– add bread bowl +$3
VEGAN CHILI
(cup)$10 (bowl)$12
A Vegan, gluten free alternative to our tangy housemade chili. Made with a variety of beans, celery, onions, carrots, bell pepper, and fire-roasted tomatoes, thick, flavorful and delicious!
Senate Bean Soup
(Cup) $10 (Bowl) $12
A soup very much like this was first served in the U.S. Senate. Today, you can have the same tasty bean soup at Flanagan's on Main for a very low price.
Navy beans, ham, garlic, onions, celery, carrots, salt, cloves, thyme, and freshly ground black pepper.
POTATO LEEK
(cup)$10 (bowl)$12
A house favorite made thick and creamy, loaded with chunks of potato, onion, fresh leek. Includes housemade brown bread.
– add bread bowl +$3
Choice of Dressing:
Citrus Vinaigrette, Flanagan's Homemade Ranch, Honey Dijon, Blue Cheese, Thousand Island, Toasted Sesame, Balsamic Vinaigrette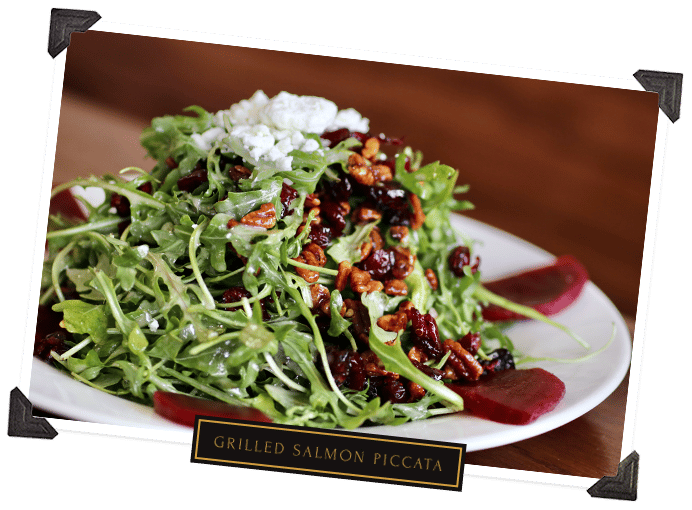 BEETS & ARUGULA SALAD
$17
Salt-roasted beets, cranberries, arugula, goat cheese, toasted pecans with citrus vinaigrette.
Caesar salad
$15
Romaine lettuce, croutons, and shredded parmesan cheese, classic caesar dressing
House Salad*
$11
Mixed greens, shredded carrots, grape tomatoes, seasoned croutons and your choice of dressing
Add extra protein to any salad:
Grilled Chicken $8, Shrimp $8, Salmon $9

GLUTEN-FREE OPTIONS AVAILABLE
Sandwiches, Wraps, Burgers
choice of: soup, salad or french fries; sweet potato fries, onion rings +$3
Served on a Craft Sesame-Seed bun:
PUB BURGER
$20
Half-pound angus beef patty topped with cheese, lettuce, onion, tomato, pickle, mayo and mustard.
– Make it Irish style +$3
Lettuce Wrap Option Available:
TOMMY'S "V"EGGIE WRAP
$18
Roasted and grilled veggies, cilantro, rice, cheddar cheese, Sriracha ranch, wrapped in a spinach tortilla.
– add chicken $6 shrimp $7 salmon $8
PULLED PORK
$18
Ciabatta bread, smoked pulled pork, fries and homemade coleslaw salad. Side BBQ and Carolina Mustard BBQ sauce.
GRILLED CHICKEN BLTA
$20
Grilled chicken breast, smoked bacon, lettuce, tomato, avocado, chipotle smokehouse ranch, all served on a toasted ciabatta roll.

GLUTEN-FREE OPTIONS AVAILABLE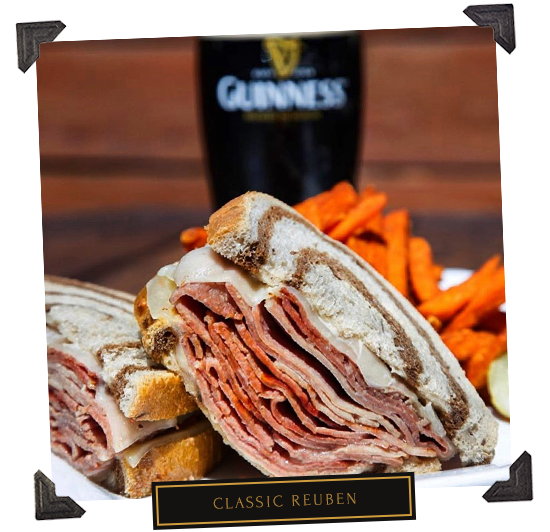 CLASSIC REUBEN
$18
Thinly sliced corned beef, sauerkraut, Swiss cheese, and thousand island dressing on toasted rye bread. Or make it a Rachel -substitute sliced turkey for corned beef.
EVERY THURSDAY
PRIME RIB*

(10 oz) $42 / (14 oz) $47
Slow roasted prime rib, garlic smashed potatoes and seasonal vegetables. Housemade au jus and horseradish cream.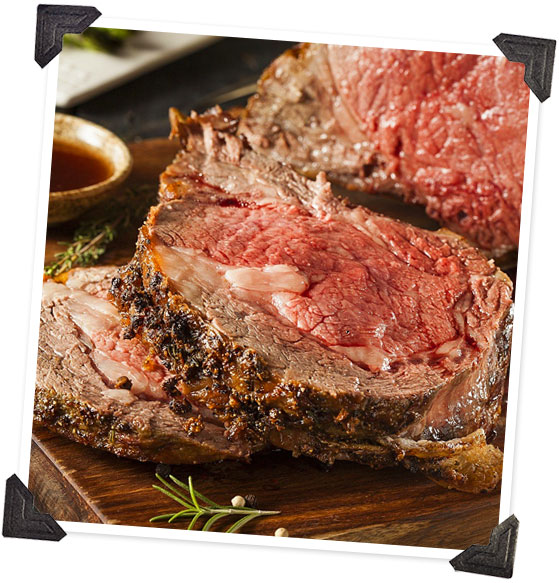 SHEPHERD'S PIE
$25
Savory ground beef and lamb simmered with carrots, peas and onions in beef broth gravy topped with cheddar mashers and a side of mixed veggies.
IRISH BEEF STEW
$26
Tender chunks of beef, potato, celery, carrot, onion, herb, slowly cooked in Guinness brown gravy, served over a portion o'mashers. The ultimate comfort food.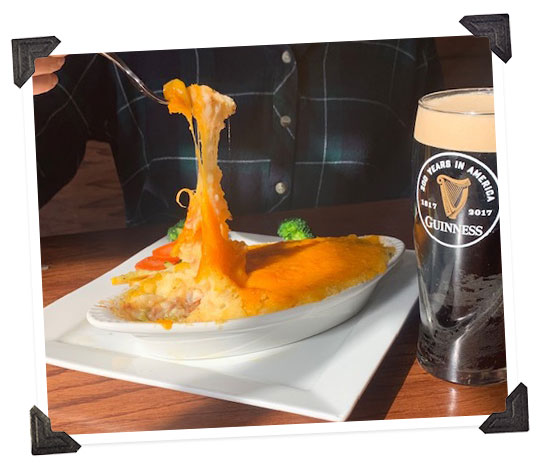 FISH & CHIPS
$25
Black and Tan beer-battered atlantic cod fillets served with crispy pub fries and our housemade tartar sauce. A Flanagan's favorite.
WHISKEY CHICKEN BOXTY
$25
Boneless chicken breast sauteed with onions, mushrooms, garlic and fresh thyme in an Irish whiskey cream sauce.
CORNED BEEF & CABBAGE
$26
Housemade corned beef layered over seasoned braised cabbage, drizzled with an Irish cream sauce, mixed veggies and red potatoes.
BANGERS & MASH
$26
Grilled bangers sausage served over mashers with Irish brown gravy, green onions, steamed veggies and ciabatta bread.
Bar Bites
Small Salad $6, Onion Rings $6,  French Fries $5, Sweet Potato Fries $6, Veggie Platter $6, Garlic Cheese Toast $7, Curry Fries $8, Chili Cheese Fries $10, Hummus and Pita bread $6, mozzarella sticks $7, Chips & Salsa $4,  Chips & Guacamole $5, Cauliflower Bites $7, Corned Elote Bites $7, Mango Jabanero Bites $7

GLUTEN-FREE OPTIONS AVAILABLE
GRILLED SALMON PICCATA  
$38
8oz Atlantic Salmon, white wine, lemon and capers, rice pilaf and mixed veggies
Chicken Schnitzel 
$25
Our Chicken schnitzel is fried golden and crisp on the outside, tender and juicy within, and topped with Irish cream sauce, served with o"mashers and mixed veggies.
NEW YORK STEAK
$42
12 oz USDA natural grass-fed NY strip, grilled onions, mashers, and mixed veggies
Orie's Shrimp pasta 
$32
Sautéed jumbo shrimp, veggies, and bowtie pasta in a lobster cream sauce.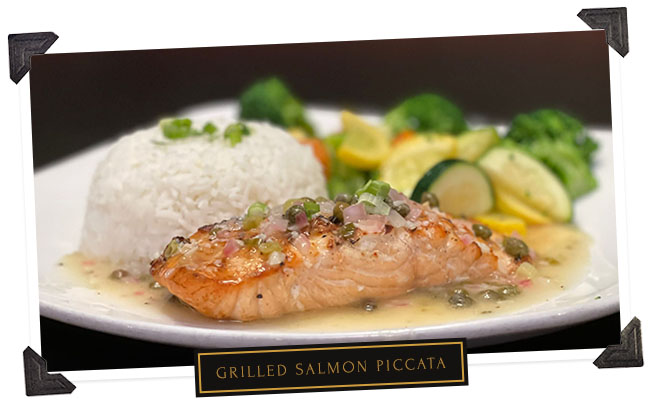 Flanagan's Bread Pudding
$11
Bake Apple Ala' Mode
$10
Pineapple Rum Upside-Down Cake
$11
Flanagan's Banana Fritter
$11
Vanilla Bean Ice Cream with Fresh Berries
$11
ADD AN EXTRA SCOOP OF ICE CREAM FOR $2.50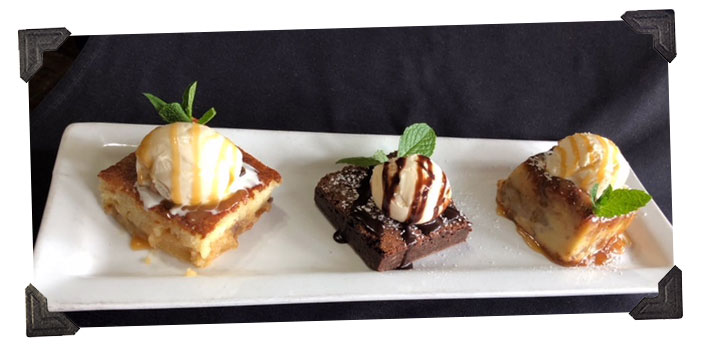 Dishes  and prices are subject to change
Award Winning Irish Fayre
and American Favorites
Where Families Are
Always Welcome!
Award Winning Irish Fayre
and American Favorites
Where Families Are Always Welcome!

St. Patrick's Day
Countdown to March 17, 2022

Monday-Thur- 11:30 am – 9:00 PM
Fri-Sat – 11:00 am – 10:00 PM
Sun – 11:00 am – 9:00 PM
Friday-Saturdays – 6:00pm-1:00am